C'est une drôle d'histoire qui bouscule le milieu du
Street Art
en ce début d'année !
L'artiste italien BLU, viens de voir une de ses œuvres censurée par Jeffrey Deitch, nouveau directeur du MOCA (Museum Of Contemporary Art) de Los Angeles.
Grande opération de whitewashing en direct !!!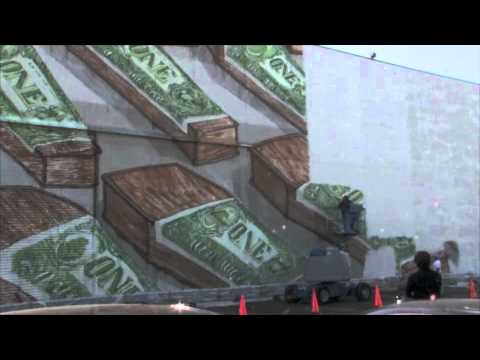 Le plus étonnant c'est que cette même oeuvre avait été commandée officiellement par le musée lui-même !!! La fresque (immense !) représente des cercueils recouverts de dollars en guise de drapeau national. Seul petit couac, cette fresque est présente sur un mur situé en face d'un hôpital pour vétérans et aussi non loin d'un monument dédié à la mémoire des soldats américains d'origine japonaise ayant combattu durant la Seconde guerre mondiale.
L'œuvre a donc été donc purement et simplement jugée «
inappropriée
» par le directeur actuel du MOCA.
La vidéo ci-dessous présente un collectif d'artistes et de citoyens qui sont venus protestés et aussi soutenir l'artiste BLU.

Le MOCA prépare pour avril 2011 une grand exposition sur « l'art de la rue »  intitulée :  « Art in the streets ».
Cette fresque avait été commandée pour annoncer et promouvoir l'événement !
C'est chose faite !!!

Site du MOCA /// Blog de BLU
Lire aussi les articles suivants :